22. Brandenburgisches Fest der Neuen Musik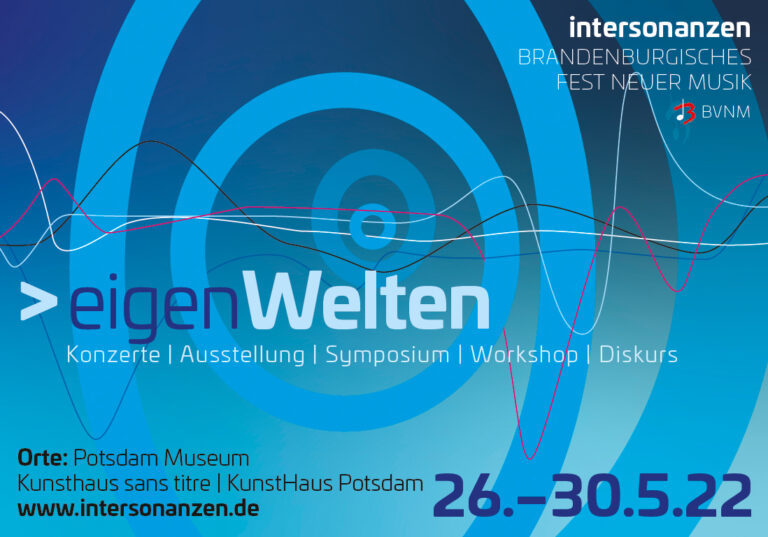 intersonanzen 2022 >ownWorlds
May 26th-30th Mai 2022 in Potsdam (Museum, Kunsthaus sans titre, KunstHaus Potsdam)
The new brandenburg festival of new music "intersonanzen" takes place under the title >ownWorlds from the 26th of may to the 30th of may in Potsdam. Renowned artists like the "Bremer Schlagzeugquartett", the "Max-Brandt-Ensemble" from Vienna, the sopranist Claudia Herr, "Partika Radikale" from Wuppertal, the "modern art ensemble" from Berlin and the Brandenburg "Ensemble JungeMusik" present in many different concert forms new music from Brandenburg in the context of international repertoires with 40 world premieres. These come to life in concerts and a sound art exhibition, with that comes also a soundwalk, a RadKlangTour as well as many attractions in the city, a workshop and a symposium. Daily discourses reflect and deepen the experiences in an open and direct discussion, where you can experience the scene up closely with selected protagonists. Other cooperations with institutes from the city and the country as well as international artists flow into so called "bridge concerts", in which special programms will be performed somewhere else again (f.e. In Danzig, Eberwalde, Ludwigsburg, Rostock, Vienne, Wuppertal).
In the ideal case every sounding work of art will create it´s own world, in which the visitor will stay for a while (f.e. during the concert or a production). The intersonanzen 2022 tries to provide informations about these worlds, to describe our relationship with them- while putting this all in an aesthetic context. What are the rules of this special world, what is it´s philosophy and what is it´s appeal/grace? What logic and lines of development are there? What is foreign and what is familiar? How do we enter this world and how do we leave it? Which way does time pass by there? Will you leave with impulses, with something for your dayly life? In which relationship does art stand to reality?
These and many more questions are to be investigated at the intersonanzen 2022- in a dialogue, but mostly in a touching experience of sounding art live and on site. The cooperation with the local music schools and the university of Potsdam should address the younger generation.
So there is much to discover at the intersonanzen 2022, not only for professionals, but for everyone with an open ear and enjoyment of a deep sounding experience- on an exciting journey through the contemporary musical >ownWorlds.
Artistic Director: Thomas Gerwin

Places: Potsdam Museum, Kunsthaus sans titre, KunstHaus Potsdam, in the city

Partnership countries: Austria and Poland

Patron: Ministerin Dr. Manja Schüle MWFK Land Brandenburg
Funding Partners: MWFK Land Brandenburg, Landeshauptstadt Potsdam, Potsdam Museum, Stadt Eberswalde, Stadt Cottbus

Cooperation Partners: Kunsthaus sans titre e.V., KunstHaus Potsdam e.V., Universität Potsdam, Netzwerk Neue Musik, Kulturfeste Brandenburg, KulturMachtPotsdam, Theaterkollektiv FRITZAhoi, Städtische Musikschule Potsdam, INÖK, Österreichische Botschaft, Electronic Music Foundation NY and others
Organiser (v.i.S.d.P.):
BVNM e.V. – Charlottenstr.31 – 14467 Potsdam – info@neue-musik-brandenburg.de

Praeludium/Ausstellungsbeginn Conradi/Gehlen 2 git, obj
Werke von Jan Cyz UA, Violeta Dinescu, Stefan Lienenkämper, Gerhard Stäbler
KlangWandel/Kunstaktion zum Weg  mit Mikos Meininger 
Eröffnung mit Politiker*innen mit S.Conradi/B.Gehlen 2 git  Werke von Mark André, Ulrich Pogoda UA, Toru Takemitsu
Eröffnungskonzert Bremer Schlagzeugensemble mit Hsin Lee, Aaron Schröder, Kagan Söylerkaya, Olaf Tzschoppe (Ltg.)   
Werke von Volker Freidel UA, Ralf Hoyer UA, Benjamin Lang UA, Andreas Staffel UA, Jan Hansen, Michael Edgerton 
Diskurs – Neue Musik im Gespräch
Konzert modern art ensemble mit Klaus Schöpp fl, Theodor Flindell vl, Kirstin-Maria Pientka vla 
Werke von Albert Breier UA, Gabriel Iranyi vl+vla UA, Peter Köszeghy UA, Steffen Schellhase UA
Konzert Ensemble JungeMusik mit Joachim Striepens bcl, Elena Kakaliagou hrn, Anna-Katharina Schau acc, Katarina Vowinckel tr
Werke von Johannes Borowski, Martin Daske, Sebastian Elikowski-Winkler UA, Irina Emeliantseva UA, Georg Katzer, Xuan Yao, Helmut Zapf   
Diskurs – Neue Musik im Gespräch
Start RadKlangTour mit Claudia Herr s + Thomas Gerwin perc/elec
Matineekonzert innen/aussen Claudia Herr sopr       
Werke von John Cage, Giordano Bruno do Nascimento UA, Martin Schneuing UA
Ausstellungsführung mit Thomas Gerwin 
Symposium mit Prof. Dr. Ulrike Liedtke
KlangWandel mit Jenny Alten
Konzert Komponisten-Performer div    
von und mit Julia Deppert-Lang, Dietrich Petzold UA, Frank Petzold UA, Taymur Streng UA, Lothar Voigtländer
Konzert Max-Brand-Ensemble Wien mit Annegret Bauerle fl, Florian Michael Horvath cl/sax, Joanna Lewis vl, Arne Kircher vc, Richard Graf elec (Ltg.)  
Jacek Domagala UA, Thomas Gerwin UA, Gisbert Näther, Susanne Stelzenbach UA  Werke von Tadeusz Dixa, Jacek Domagala UA, Andrzej Dziadek, Ursula Erhart-Schwertmann UA, Thomas Gerwin UA, Richard Graf UA, Justina Kowalska-Lasoń UA, Gisbert Näther, Julia Purgina, Susanne Stelzenbach UA
Diskurs – Neue Musik im Gespräch
Start Soundwalk Dr. M. Schenk     
Workshop                                                                                                                      Dozenten: Lara Imber und Philipp Höning
Projektleitung: Susanne Westenfelder und Benjamin Lang
KlangWandel/Kunstaktion zum Weg mit Annette Paul
Konzert BVNM ad hoc Ensemble div  
von und mit Katia Guedes, Henry Mex, Dietrich Petzold, Susanne Stelzenbach, Thomas Gerwin
Diskurs – Neue Musik im Gespräch
Konzert Städtische Musikschule Potsdam div. Mitwirkende  Werke von Volker Freidel, Juan Antonio Muro, Witold Lutoslawski, Gisbert Näther
Konzert Partita Radicale Wuppertal mit Gunda Gottschalk vl, Ute Völker acc, Ortrud Kegel, Karola Pasquay fl  Werke von Fabian Blum UA, Katia Guedes UA, Johannes Hildebrandt UA, Henry Mex "Labyrinth" UA
Diskurs – Neue Musik im Gespräch
AUSSTELLUNG Kunsthaus sans titre
(geöffnet Fr-Mo 16:00-19:00)
Partituren aller Stücke jeweils 1 ausgewählte Seite
Jenny Alten "STEHT-O-SCOPE" WP
Martin Daske "Noten setzen 1-3"
Thomas Gerwin "Soundscape No.14" WP
Mikos Meininger "Innenleben" WP
Henry Mex "Labyrinth" WP
Alex Nowitz "Sieben Eintragungen aus dem Tagebuch eines Lautklangkünstlers" WP

Annette Paul "und sauberer wird's, doch rein wird es nie wieder sein" WP
Sabine Vogel "Intertwinin"