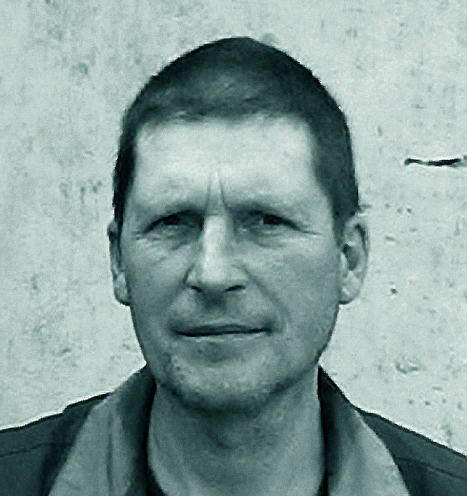 1952 geboren in Washington DC
Seit 1979 wohnt und arbeitet er in Berlin.
1986 ARS ELECTRONICA, Linz, Austria. Berlin Atonal Festival.
1987 STEIRISCHEHERBST, Graz, Austria.
1989 Musée de La Villette, Paris.
Seit 1991 wohnt und arbeitet er in Baitz, Brandenburg
1992 Cleveland Performance Festival, Ohio.
1993 MEDIALE, Hamburg. Art and Computers, University of Moscow.
1992 ULTIMA Festival, Oslo. Cleveland Performance Festival, Ohio.
1997 AUDIOGEISHAS, ICC-NTT Tokyo City Opera House
SONAMBIENTE Sound Art Festival, Academy of Arts, Berlin.
1999 IDAT (International Dance and Technology Conference),Phoenix, Arizona.
2000 Postdamer Musikfestspiele, Potsdam.
2001 Seoul Performing Arts Festival.
2002 AUDIO BALLERINAS, Location One, NYC.
2004 «Sonoric Atmospheres/Ostseebiennale der Klangkunst. AUDIO IGLOO, sound sculpture in the Sing- uhr-Hörgalerie, Parochial Kirche/Berlin.
2007 Sitelines Festival, NYC.
2008 MUSICA EX MACHINA/ Bilbao.
2010 TonSpur Expanded: the Loudspeaker/Vienna, the AUDIO GUILLOTINE. Zero1 Festival, San Jose Biennale, San Jose Ca.
2012 FarbFest Dessau, Stiftung Bauhaus. ZKM, Sound Art, TEMPLE Sculpture.
2013 Audio Igloo, Skulpturenmuseum Glaskasten Marl. The Cube, Hard Rock Hotel, Palm Springs, CA.2014 MaerzMusik, Berliner Festspiele.
2015 Kobe Biennale, Japan.
2016 Karaoke Torii, Kamiyama, Japan.
2018 Obelisk, Cairotronica, Kairo. Arena, Contemporary Art Forum Kitchener and Area, Kanada
2019 Speakers Arena, Berlin, Kulturhauptstadt Fonds. Intersonanzen Festival, Potsdam.
Mein Hauptinteresse ist der öffentliche Raum. Klänge und »vibrierende Luft« erlauben mir den zu beleben und gestalten.